Welcome to Pelican Bay
Taking Private Communities To New Heights
Pelican Bay is more than just a fabulous place to live, it's a vibrant, welcoming community that provides more than most developments. Carefully planned infrastructure, amenities, and green space make this one of Southwest Florida's best-planned communities, delivering a serene living environment to residents and visitors since its 1972 beginnings. Pelican Bay offers 95 different communities, a mix of single-family homes and condominiums, which are spread out over 3.25 square miles, all having easy access to 88 acres of parks and recreation areas. To top it off, three pristine miles of white-sandy beaches, with two private beach clubs and beachside dining, make this the ideal place to take in the famous nightly Florida sunsets. With luxury living and exclusive amenities, Pelican Bay redefines what a beachside private community is, delivering everyday conveniences, plenty of housing options at various price points, the natural environment, and some of the friendliest people you will find in South Florida.
What Makes Pelican Bay Stand Out
A true community with over 6,500 residences in 95 associations.
A diverse range of homes covering everything from condos of all kinds to magnificent private homes in neighborhoods or gated communities.
The fabulous private beach club with tram service through Clam's Pass for easy access, fitness classes, beachside dining at 2 restaurants, and 3 miles of North and South Beach paradise. The clubs are well maintained, attended with lounge chairs and umbrella service, making it easy to relax. To know about high-end spas in Naples, FL check this .
A golfing haven – Club Pelican Bay is home to 27 championship holes and is one of the top private golf communities in Naples.
A vibrant tennis community with tennis leagues, round-robins, professional instruction, or special events, there is something for every ability level across 18 courts.
High-quality community amenities – Owners in Pelican Bay also enjoy a beautiful community center, fitness center, and wellness studio.
Natural beauty – Take a trip on the tram North or South and soak in the incredible views, from Inner and Outer Clam Bay, through the fabulous mangrove forest. Teaming with incredible wildlife, Clam Pass Park provides natural beauty everywhere.
Pelican Bay Real Estate Highlights
The Pelican Bay neighborhood is approximately 3 miles North to South along the Gulf of Mexico and 1 mile from East to West from US 41 to the waterfront. Contact Matt Brown to find houses, condos & homes for sale in Pelican Bay.
6,500 residences in 95 associations at build-out

3.25 square miles with 88 acres of parks and recreation green space

Pelican Bay real estate consist of 717 single family houses and 5,550 condominiums

Tram cars/system makes 900,000 trips annually for residents and visitors

87 single family homes sold in Pelican Bay in 2020 at an average price of $2,643,005 ($679 per square foot), were 3,552 square feet and had an average lot size of 0.39 acres.

319 condominiums sold in Pelican Bay in 2020 at an average price of $1,251,710 ($539 per square foot) and were 2,085 square feet.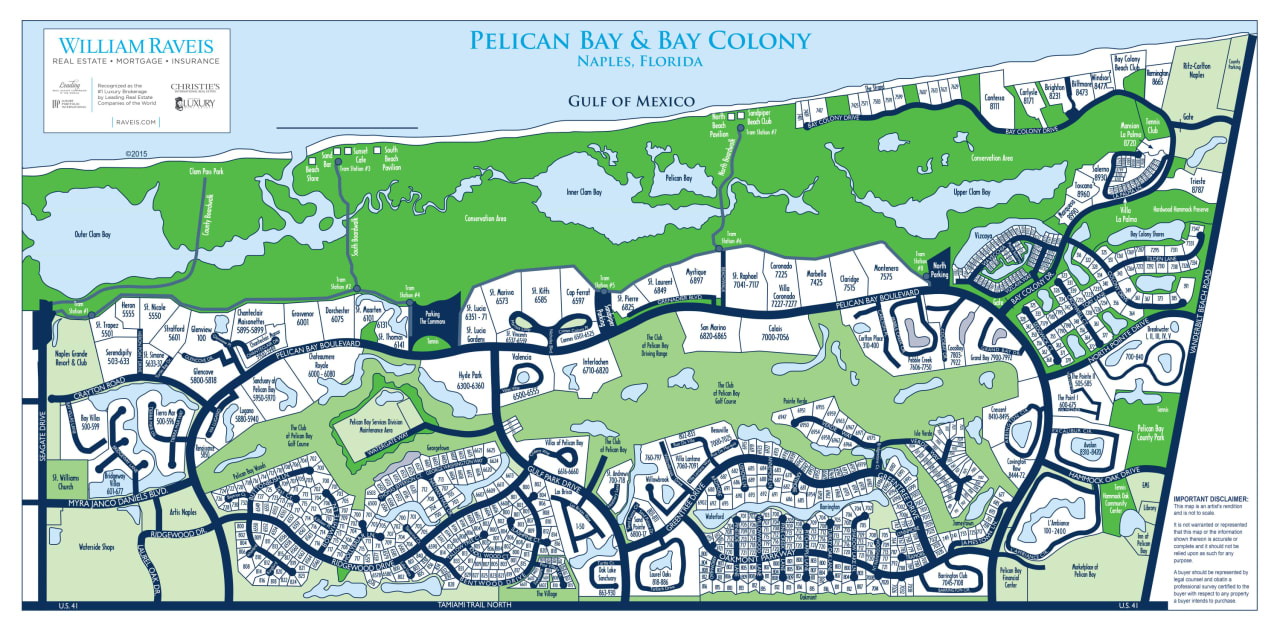 Dining Entertainment and Shopping
Whatever your tastes, there are plenty of places to dine and things to do within Pelican Bay and the surrounding area to ensure everyone is happy. Starting with dining, there are a plethora of choices, but highlights have to be the Sandbar Restaurant at South Commons, along with Marker 36 at North Commons; both offer an unforgettable beachfront dining experience. If you want to grab a bite to eat after you visit the or dealer, the Waterside Shops also has great choices and consistent quality at , , and . Other nearby dining destinations that provide unique atmospheres and quality experiences are at the northern end of Pelican Bay within the Ritz-Carlton resort: , , and , which happens to also be beachside dining.
Your everyday grocery needs are taken care of at The Marketplace, where you can find , alongside a variety of other essential stores including Stein Mart, CVS, and banking outlets. Also found close to Pelican Bay is , ensuring plenty of choices when it comes to the essentials.
For your specific shopping needs, the luxury has you covered. With more than 60 stores set within an elegant outdoor retail environment, including , , , and more. Everyday shopping is available throughout Naples, and a quick trip to in Bonita Springs will give you additional options.
Things to Do
Golfing: One of the most vibrant golfing communities in the region is found in Pelican Bay. (private) is championship level, provides access to the exceptional clubhouse, and is a great place to unwind over food and drinks after a day on the course. Designed by golf course architect Arthur Hill, the course opened in 1980 and has been owned by the residents since 1992. For more information on the Top 15 Naples Private Golf Courses, check out this .
: Another way to keep busy in the beautiful outdoor surroundings, is to get involved in Pelican Bay's tennis scene which occupies 18 courts around the community. With a variety of competitions and instruction, there is something for every level of tennis player.
Biking/RollerBlading/Canoeing/Kayaking: For those seeking adventure and a more active lifestyle, there are miles of mangrove-lined estuaries to explore by water and 88 acres of parkland to bike or rollerblade. With over 300 days of sunshine a year, you will have plenty of opportunities to stay active.
Beaches: The beaches within Pelican Bay have two access points via the , which is a great way to see scenic views of the entire bay if you aren't up for walking. The north beach offers a more relaxed ambiance and is ideal for quiet morning walks, dolphin watching, and just taking a step back from daily life to relax. South Beach is more family orientated, with volleyball, sea kayaks, and a number of eating options to keep you fueled during the day.
: With a library and a community center hub, here is yet another reason how Pelican Bay provides a real sense of community. The center itself is over 25,000 square feet and is a host to an array of events and amenities for residents, including a wellness studio and fitness center as well as a dedicated art studio. Every year there are a number of social and cultural events hosted in the community center for those who like to stay socially active.
Museum/Art Exhibits: If you are an art enthusiast, the and are two favorites. Home to the , Artis Naples and Baker Museum also hosts a full calendar of art exhibits and shows, along with a range of cultural activities. Check our to inquire more about Artis Naples and Baker Museum.
Visiting Naples: Popular for residents and visitors to the area alike, the offers exceptional accommodation and a range of amenities, while the brings beachside style and lavish accommodation. Visitors can also choose the fabulous beachfront resort as their base for exploring this fantastic area. Regardless of where you stay, make sure you make reservations at or the , both offer beachside dining and incredible sunset experiences.
Schools
Naples has an excellent reputation for its education department, with the from the Florida Department of Education three years running. As of 2020, there are 54,000+ students and 90+ public and private schools throughout Naples with a wide choice of both public and private schools around the Pelican Bay neighborhood, including:​​​​​​​
Public:
Private:
Visit for more options and information.